Archive for January, 2010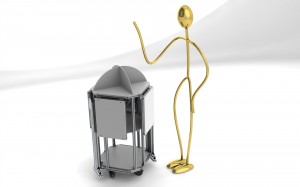 I'm headed to SolidWorks World and I'm getting in for free! I submitted a proposal to teach a 90 minute hands-on session called, "Non-Welded Weldments – Using SolidWorks Weldment tools and 3DContentCentral to create 80/20 structures". My plan is to demonstrate how to design a mobile cart in SolidWorks while my assistant actually builds the same (or similar) cart from 80/20 parts. My goal is to demonstrate how easy it is to both design and build stuff using SolidWorks and 80/20. I was having a hard time deciding what to build for the event. The proposal I submitted referenced a "a cool collapsing mobile workbench" but I wanted to build something like a Battle Droid. My friend Jamie suggested R2-D2 and the idea for R2-Table2 was born. It's all 80/20 components. It's modular and collapsible and mobile and very cool.
-Amos
Added 2/25/10 – Disclaimer – 80/20, Inc. and John Henry Foster provided the kit of 80/20 parts for my assembly of the R2-Table2 at a discounted price (it was not, however, free).