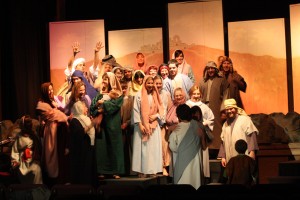 Every year my church creates a meaningful experience for its Easter celebration. This year we developed an updated version of Alive Forever, a musical multisensory presentation of the Passion story. In the past I have designed and built various props and sets. This year we needed additional staging platforms as we reconfigured the placement of the actors, musicians and choir (see photo, we're standing on them).
I designed the platforms using SolidWorks 2009 and its weldment tools.  The weldment tool is primarily used to make welded structures using a library of i-beams, w-flanges and tubing.  I developed my own library of lumber sizes which makes building the frame a snap. Just create a series of sketches that define where you want the framing members to be.  2D or 3D sketches work.  Then use the insert structural member tool to add the parts.  You can edit the placement of each one as you go so your line can represent the centerline of the member or any edge. Finally you can trim the members by using the other members around them to create nicely cut pieces.  The drawing is very swell in that it includes an automatically generated cut list – it couldn't be any easier to build with that all figured out!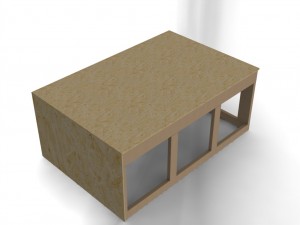 Here are the latest plans for the platforms in PDF format.